Metal recycler
Since the beginning of 2022, a scheme has been available for metal recyclers to encourage the proper disposal of Waste Electrical and Electronic Equipment, also known as e-waste. These type of appliances run on a plug or battery. The metal recyclers who participate in the scheme receive from the OPEN Foundation a compensation of € 125 per metric ton of e-waste that is collected and delivered separated to participating CENELEC certified processors. The OPEN Foundation is responsible for collecting and recycling e-waste in the Netherlands on behalf of all electrical appliance makers. We have listed the 9 most frequently asked questions and answers for you: Leaflet engels def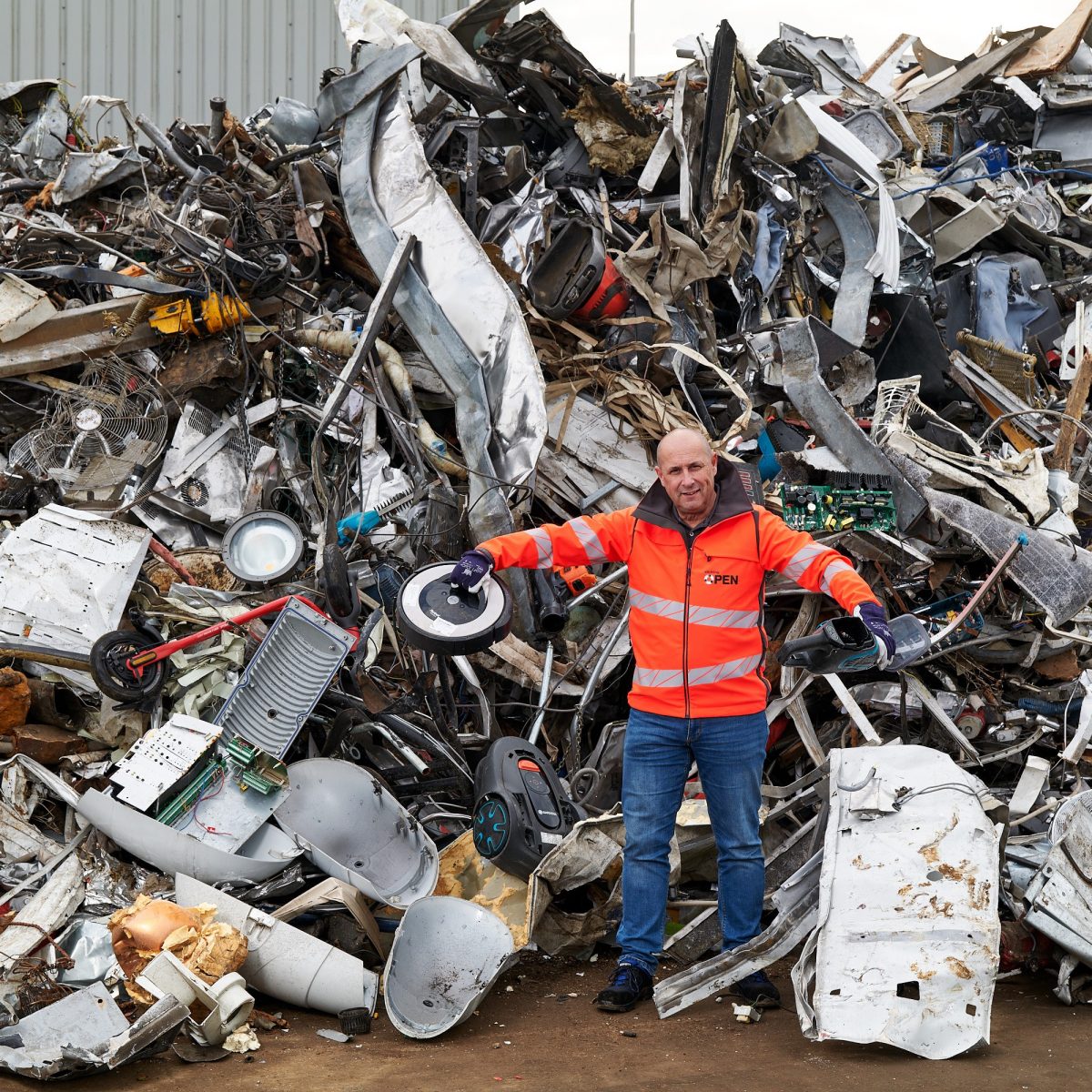 Nieuws
How does the scheme work in practice?

The Basics
Metal recyclers can participate if their permit allows them to collect e-waste and if they meet the requirements of the MRF Hallmark or comparable.
Those companies can register with the OPEN Foundation and sign a contract with Stichting OPEN.

Handing over and payments
The collecting metal recyclers keep the e-waste separated and they deliver the material to the CENELEC processor participating in the scheme. These are listed on the website of Stichting OPEN.
The processor reports the received weight of e-waste to Stichting OPEN.
Stichting OPEN pays € 125 per ton to the metal recycler that handed over the material.

Which metal recyclers participate?

Auto- en Scheepssloperij Treffers BV, Hendrik Figeeweg 35 in Haarlem

Bossche IJzer- en Metaalhandel Van Erp BV, Ketelaarskampweg 46 in 's-Hertogenbosch

Collin BV, James Cookweg 8 in Venlo

Coolrec Nederland BV, Grevelingenweg 3 te Dordrecht

De Graaf Metaal B.V., Hertzstraat 10 in Purmerend

Emmer Schroot- en Metaalhandel B.V., Albatrosstraat 2 in Emmen

Gebroeders Jansen Ijzer en Metaalhandel B.V., Coevorderkanaal 9-A in Coevorden

Heinhuis IJzer & Metaalrecycling BV, Ballastweg 10 in Eibergen

Helmondse Schroothandel BV, Deurneseweg 1 in Helmond

Helmondse Schroothandel Waalwijk BV, Industrieweg 57 in Waalwijk

HKS Scrap Metals B.V., Kwadrantweg 72 in Amsterdam

HKS Scrap Metals B.V., Sportlaan 50 in Eindhoven

HKS Scrap Metals B.V., Oude Boekeloseweg 38 in Hengelo

HKS Scrap Metals B.V., Kleverskerkseweg 65 in Middelburg

HKS Scrap Metals B.V., Graanweg 18 in Moerdijk

HKS Scrap Metals B.V., Nijverheidsweg 72 in Nijmegen

HKS Scrap Metals B.V., De Kalkovens 30 in Zwartsluis

Holland Recycling, Schouwrooij 8 in Boxtel

Hoogeveense Metaal Recycling B.V., Fokkerstraat 4 in Hoogeveen

Huiskes Boer Metaal BV, Scottweg 17 in Goes

Huiskes Metaal BV, Veerweg 9 in Waalwijk

J. Helmond & Zn Metaalhandel, Rijksstraatweg 53C in Culemborg

J.J. Vos & Zn, Rijksweg 17 in Den Helder

Jacomij Electronics Recycling B.V., Molenvliet 25 in Wijk bij Duurstede

Korlaar BV, Nijverheidsweg 5 in SOEST

Krommenhoek Metals b.v., Linschotenstraat 21 in Rotterdam

Metaalhandel W. Ketting & Zn BV, Bakkersoordsekade 4-16 Havennummer 2918 in Pernis

Mirec B.V., Hastelweg 251 in Eindhoven

Nannings Metaalhandel B.V., Kernweg 24 in Hoorn

Nehlsen Metaal Recycling Nederland B.V., Gdanskweg 45 in Groningen

Noord Nederlandse Schrootverwerking, Oostelijke Industrieweg 23 in Franeker

P. Knobel BV, Vaartkant 1a in ROOSENDAAL

PreZero Scheemda – (voorheen Virol), Dollardweg 1 in Midwolda

Prometaal, Westkanaaldijk 20 in Maarssen

Raak Metals BV, Ledeboerstraat 62 in Tilburg

RD Metals BV, Planckstraat 63 in Dordrecht

Regelink Schroothandel, Haatlandhaven 4 in Kampen

Riwald BV, Buitenhaven Oostzijde 2 in Almelo

Simmeren Schroot BV, Winschoterweg 1a in Groningen

Springers De Roeck Recycling BV, Kruisbaken 14 in Zaandam

Steenhuis Recycling BV, Renselweg 1a in Winschoten

Stolwerk Metaal B.V., Valveeken 5 in Breda

Van der Meulen Metaal B.V., Einsteinweg 16 in Leeuwarden

Van Gerrevink BV, Sint-Maarten 2 in Apeldoorn

Van Leeuwen Papier- en Metaalhandel BV, De Hooge Krocht 155 in Noordwijk

Van Leeuwen Recycling Groep, Doklaan 22 in Rotterdam

Van Munster Recyclers, Keltenweg 40 in Oss

Van Pelt Recycling B.V., Klompenmakerstraat 10 in Ridderkerk

Who can participate in the scheme?

Metal recyclers who are members of the MRF and who are allowed to collect e-waste according to their permit. Companies that are not members of the MRF may also participate, however, in that case they must be able to demonstrate that they meet the requirements of the MRF Quality Mark (www.mrf.nl/keurmerk). For this purpose, you can contact one of the certifying organisations listed on the MRF site, which will check whether your company meets the requirements. You can then immediately start delivering e-waste to any of the participating CENELEC processors. After a successful audit by the certifying organisation, you will receive a retrospective payment of the fee. The participating certification organisations are published on the MRF website, where you will also find information on the MRF Quality Mark. Alternatively, ISO9001 and ISO14001 are allowed provided that the provisions of chapter 4.6 of the MRF Quality Mark (WEEE) are included in the scope. Another alternative is the NEN standard NVN-CLC/TS 50625-4.

Why this Incentive Scheme?

It is in the interest of a sustainable and circular society that e-waste is properly processed after use. This goal can only be achieved if metal recyclers hand over the collected e-waste for processing to electronics processors with a CENELEC certificate. The cooperation of metal recyclers is therefore crucial, which is why this E-waste Incentive Scheme was created. With this, collectors are financially rewarded for every ton of e-waste that is properly delivered to a processor.