Metal recycler
Since the beginning of 2022, a scheme has been available for metal recyclers to encourage the proper disposal of Waste Electrical and Electronic Equipment, also known as e-waste. These type of appliances run on a plug or battery. The metal recyclers who participate in the scheme receive from the OPEN Foundation a compensation of € 125 per metric ton of e-waste that is collected and delivered separated to participating CENELEC certified processors. The OPEN Foundation is responsible for collecting and recycling e-waste in the Netherlands on behalf of all electrical appliance makers. We have listed the 9 most frequently asked questions and answers for you: Leaflet engels def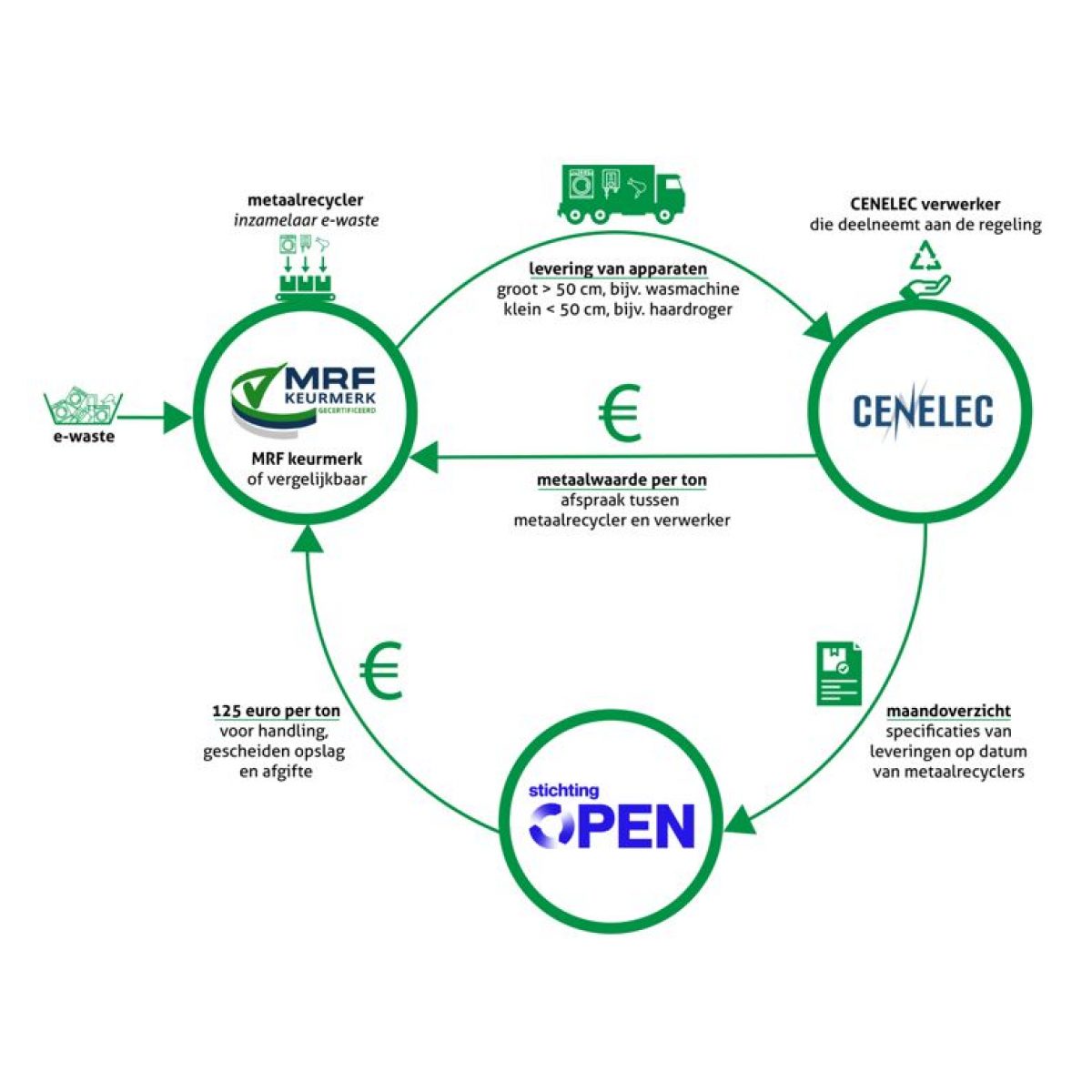 Veelgestelde vragen
Who can participate in the scheme?

Metal recyclers who are members of the MRF and who are allowed to collect e-waste according to their permit. Companies that are not members of the MRF may also participate, however, in that case they must be able to demonstrate that they meet the requirements of the MRF Quality Mark (www.mrf.nl/keurmerk). For this purpose, you can contact one of the certifying organisations listed on the MRF site, which will check whether your company meets the requirements. You can then immediately start delivering e-waste to any of the participating CENELEC processors. After a successful audit by the certifying organisation, you will receive a retrospective payment of the fee. The participating certification organisations are published on the MRF website, where you will also find information on the MRF Quality Mark. Alternatively, ISO9001 and ISO14001 are allowed provided that the provisions of chapter 4.6 of the MRF Quality Mark (WEEE) are included in the scope. Another alternative is the NEN standard NVN-CLC/TS 50625-4.

Why this Incentive Scheme?

It is in the interest of a sustainable and circular society that e-waste is properly processed after use. This goal can only be achieved if metal recyclers hand over the collected e-waste for processing to electronics processors with a CENELEC certificate. The cooperation of metal recyclers is therefore crucial, which is why this E-waste Incentive Scheme was created. With this, collectors are financially rewarded for every ton of e-waste that is properly delivered to a processor.

How does the scheme work in practice?

The Basics
Metal recyclers can participate if their permit allows them to collect e-waste and if they meet the requirements of the MRF Hallmark or comparable.
Those companies can register with the OPEN Foundation and sign a contract with Stichting OPEN.

Handing over and payments
The collecting metal recyclers keep the e-waste separated and they deliver the material to the CENELEC processor participating in the scheme. These are listed on the website of Stichting OPEN.
The processor reports the received weight of e-waste to Stichting OPEN.
Stichting OPEN pays € 125 per ton to the metal recycler that handed over the material.

I receive mail from Afvalbeheerstuctuur AEEA B.V.(AEEA B.V.). Is that you?

Yes, for the contracting of the waste management structure at Stichting OPEN has established a purchasing organization called Waste Management Structure WEEE B.V. (AEEA B.V.). AEEA B.V. is a 100% subsidiary of Stichting OPEN and takes care of the contracting and invoicing.