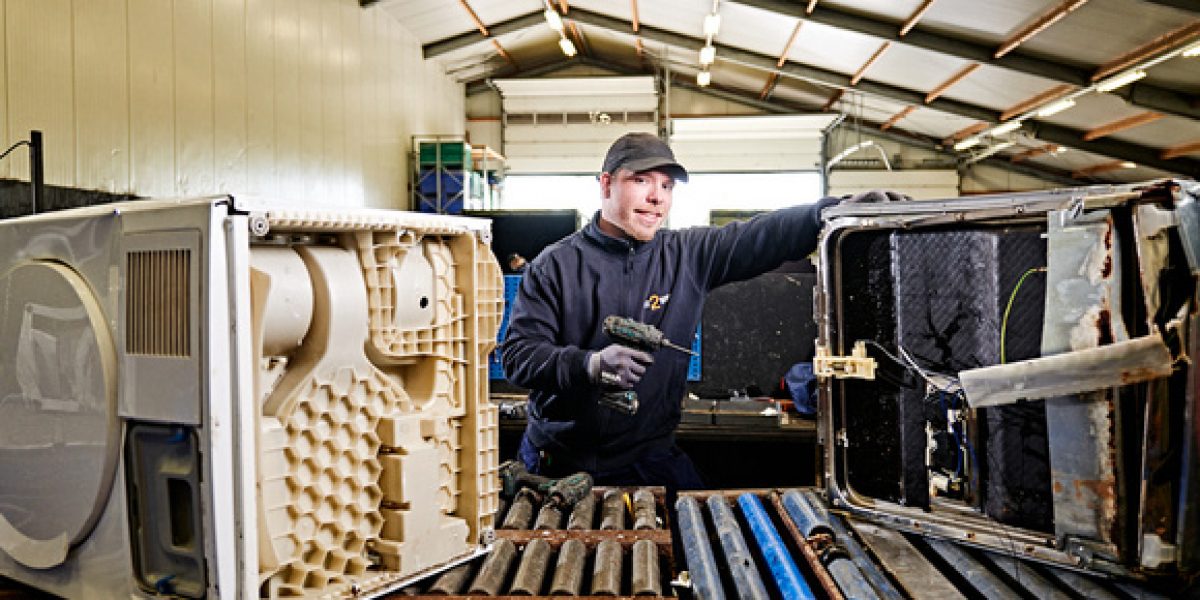 We ensure sustainable and environmentally conscious processing of collected e-waste. After collection, sorting of the electrical appliances takes place. Some appliances are manually disassembled in order to realize reuse or better recycling. This activity is done, where possible, with people with a distance to the labor market. The e-waste is then processed in the best possible way by CENELEC-certified recyclers. Environmentally hazardous substances such as batteries and capacitors are also removed. The appliances collected are thus ultimately all recycled into new raw materials.
Every year, the OPEN Foundation collects thousands of tons of e-waste. These are collected by one of our partners from municipalities, retailers or come directly from the consumer. The e-waste is then sorted by product group for further processing in the recycling process. This takes place at various locations. Sometimes in distribution centers, sometimes in special sorting centers.
Electronic waste recycling
Electronic waste from various municipal environmental sites is delivered in containers to our sorting locations. This includes, for example, laptops, servers and network equipment, TVs, refrigerators, printers and household appliances. Most devices are sorted there (screens by screens, etc.) and then go to our recyclers.
Some of the appliances are disassembled and go to the recycler in parts. ICT equipment and large white goods, such as dryers, dishwashers and washing machines, are dismantled including depollution. With machine dismantling, contamination, for example food residues in refrigerators, is a disturbing substance. Manual processing ensures a significantly higher recycling rate. Thanks to manual disassembly, recycling results of up to 95% are achieved.
The dismantled and sorted raw materials, such as glass, wood, capacitors and concrete counterweights, copper, plastic and iron are then processed by certified processors into raw materials, from which new products are made.
For safety reasons, devices are sorted into batteries. These are transported separately to increase safety in the chain. We work closely with the Batteries Foundation (Stibat) on this.
The sorting and disassembly is done by people with a distance to the labor market. At the sorting centers they are guided and motivated to take a step towards paid work.
---